Today's construction challenges call for new product solution, introducing NEOPOR ThermaPlus™.
NEOPOR ThermaPlus™ is an innovative non-structural, rigid foam plastic insulated sheathing (FPIS) laminated with a proprietary building wrap that is breathable, resists air infiltration, and manages bulk water. It combines BASF Neopor® GPS (Graphite Polystyrene) rigid foam with Barricade® HouseWrap Plus™ Weather Resistive Barrier (WRB). In an effort to reduce build time, NEOPOR ThermaPlus™ delivers time and labor savings by combining two intensive steps into one during the construction process.
NEOPOR ThermaPlus™ provides a higher R-Value per inch than standard EPS along with consistent, long term thermal resistance that does not dissipate over time. With low water absorption and semi-permeability, it helps prevent moisture from being trapped, without sacrificing R-Value. Applications include above grade exterior walls on residential and commercial buildings. NEOPOR ThermaPlus™ is ideal for new and existing construction projects and can be installed over a variety of substrates including open framing, sheathing, CMU, and concrete. It is also compatible with many types of claddings. As an added benefit, Neopor® continuous insulation (CI) addresses the need to create a more sustainable future. BASF's manufacturing process encompasses a low embodied carbon (LEC) footprint and low global warming potential (LGWP). This energy-efficient, cost-effective insulation system provides customers with a comfortable home for years to come.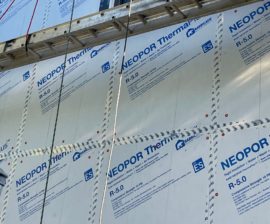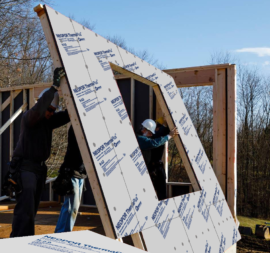 In December of 2021, installation of NEOPOR ThermaPlus™ was completed as part of a pilot program with New Jersey Institute of Technology's (NJIT) Re-Side Right project. Participating homeowners reported greater energy effeciency and comfort. BASF officially launched NEOPOR ThermaPlus™ at the 2022 International Builders' Show (IBS) resulting in an overwhelming positive response among construction professionals.
For a limited time, BASF is providing material at no charge to qualifying builders to experience the performance on an upcoming model home. Contact a Neopor® representative for more information and inquiries.