Stacy Smedley and Phil Northcott, co-conceivers of the Embodied Carbon in Construction Calculator (EC3), became aware of the importance of preserving our environment some time ago. At the age of seven, Smedley discovered her passion for protecting the environment and wanted to create buildings that would not harm the planet. She is an architect by trade, and combining Northcott's background in technology, the pair did whatever it took to develop a meaningful tool that works to reduce embodied carbon emissions in the construction industry. This included partnering with the Carbon Leadership Forum to incubate the EC3 tool. From there, the project team, with input from nearly 50 industry partners, established Building Transparency to continue the management and development of the EC3 tool, as well as provide the resources and education necessary to ensure its adoption.
Why embodied carbon in construction? According to the Carbon Leadership Forum, approximately 30% of all global carbon emissions are attributed to the building sector with at least 8% resulting from the manufacturing of construction materials. Embodied carbon of building materials is a measurable environmental impact that could make a substantial contribution toward meeting Paris Agreement targets to keep average global temperature increases less than 2⁰C.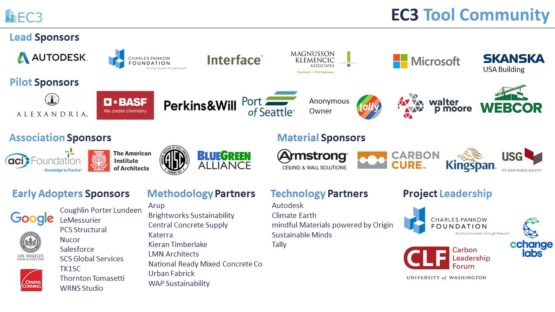 "If we don't act, the climate will."
Every product category on the EC3 tool is examined by industry experts who work with Smedley and Northcott to educate them on the nuances of each featured product. Smedley and Northcott explained that when they examined data in each product group, they found surprising results. In the insulation category, the systems that rely on captive blowing agents stood out to the co-conceivers because certain types of insulation rely on trapping blowing agents for their thermal resistance. In some cases, the escaping blowing agents are high global warming potential gasses and the group decided it was imperative to make that transparent. Because of this, not only life cycle stages A1-A3 are considered but the continued off-gassing of certain products was incorporated to include B1 (the off-gassing reported during building use) and C4 (the final release of the blowing agent during disposal) values. As demonstrated on the environmental product declaration as well as the EC3 tool, Neopor can deliver tremendously low global warming figures because of efficient production, low raw material use per functional unit, and its primary blowing agent, Pentane. This blowing agent has a low global warming potential, to begin with, and once the product is turned into foam, the pentane is replaced with air so that Neopor's R-value remains the same over time as the air and graphite work together for high thermal resistance.
"Do you know the scientist who didn't believe in climate change? No? Me neither!"
Building Transparency – a 501(c)3 nonprofit organization that fosters a better building future – hosts, manages and maintains the EC3 tool, which provides thousands of digitized EPDs in a free, open-source database. With the online tool, users can easily compare the embodied carbon of various building materials to reduce a building's overall embodied carbon. The EC3 tool is partner-oriented and incentivizes manufacturers to produce low-carbon materials as the tool has created a demand for low-carbon solutions in the construction industry. Architects, sustainability consultants, and building product manufacturers are all widely represented on the tool as the site encourages disclosure and transparency of building materials. As sustainable solutions are being used more than ever, the tool provides users a proper benchmark so they can pick the best materials for their next project. As the EC3 tool has gained immense popularity since its official launch at Greenbuild 2019, users from across North America, Europe, and Australia, to name a few, have started to realize how the EC3 tool helps to reduce embodied carbon emissions across the supply chain.
We asked the co-conceivers to look into their embodied carbon crystal ball to give us an idea of what is to come with the EC3 tool and sustainability in the construction industry in the next five years. Smedley believes as a society we will be a lot closer to zero carbon capture. With sustainable solutions readily available such as Neopor GPS, net-zero carbon emissions will be the reality. Neopor GPS is the low carbon rigid insulation option today and with Neopor products of the future to be made with NeoporBMB or even taking into account BASF's ChemCycling™ project, Neopor will remain a low-carbon and high performing option for years to come. BASF is a Pilot Project and Material Sponsor of the EC3 tool and is proud to collaborate to promote the transparency of data and reduction of embodied carbon in construction.
Interested in seeing how Neopor stacks up to competitors? Check out the Neopor listing on the EC3 tool here!