Specificying Neopor® GPS means using resources more wisely
Specification of Neopor® GPS can lead up to 30% material savings compared to conventional EPS and XPS. The chart below illustrates the mass (lbs) of various R-5 rigid insulation materials required for a typical 2,000 sq.ft. building (continuous insulation, 75% of exterior surface with 9 ft. tall exterior walls).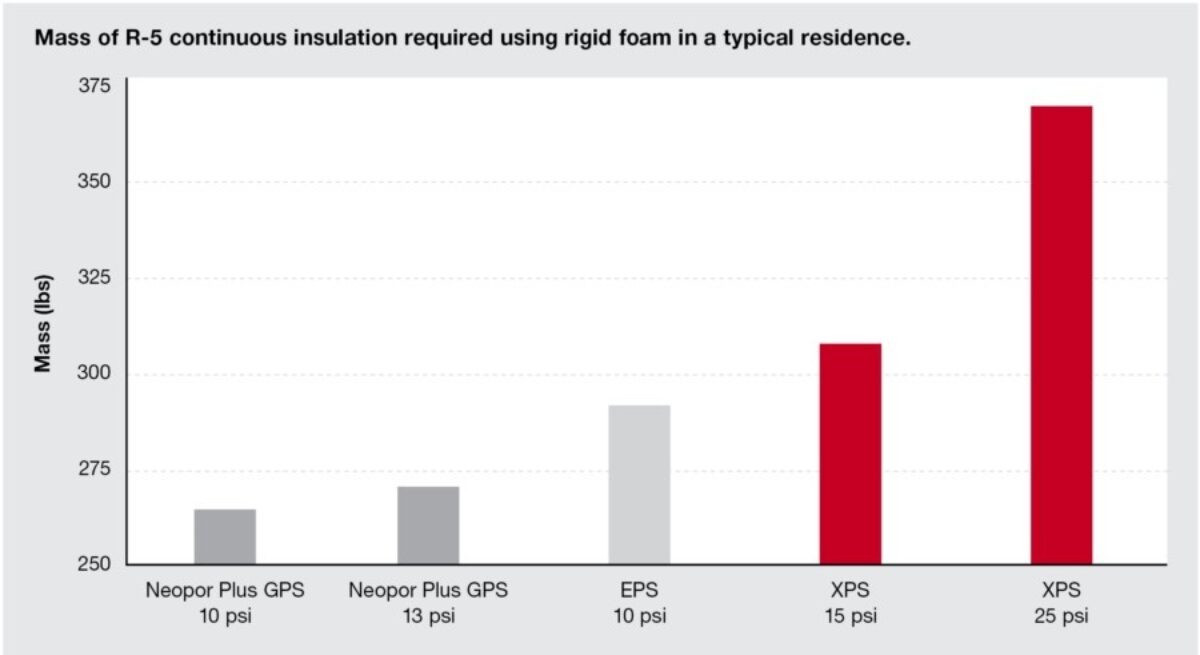 Neopor® GPS - A strong contribution to sustainable construction
Insulating for the future with Neopor® GPS
To tell whether a building qualifies as sustainable, it has to be assessed in its entirety. Neopor's exemplary eco-efficiency greatly improves overall sustainability assessments.
Houses mainly lose energy through their outer envelope. In the case of a single-family home, an uninsulated external wall without windows can account for between 20 and 30% of the total energy loss. To achieve energy-saving targets, whether they are prescribed by law or voluntary, Neopor GPS provides solutions to this challenge as numerous reference projects have shown.

Properly executed and installed insulation made of Neopor GPS lasts for many years and greatly contributes to reducing heating costs.
Especially in the context of integrated concepts for increasing the energy efficiency of new or renovated older buildings, insulation made of Neopor GPS makes good economic sense.

Exemplary Eco-efficiency
BASF's patented Eco-efficiency Analysis evaluates efficiency from both an economic and an environmental standpoint. Compared with alternative products, Neopor GPS insulating materials offer greater benefits at lower costs with less environmental impact. Neopor's advantage is in its performance: its higher R-values means as much as 50% less raw material is needed. This lowers costs, saves resources and reduces the environmental effects of construction. Neopor GPS materials also achieve the same insulation effect at up to 30% thinner profiles, making it a highly eco-efficient insulation for modern thermal protection.

Neopor® GPS demonstrates low global warming potential (GWP)
Insulation is key to reducing carbon emissions and global warming potential from buildings by saving energy consumption.
On the other hand, all insulation materials take energy to manufacture and transport-something the industry refers to as embodied energy.
The amount of embodied energy depends to a great extent on the blowing agent in insulation material. Designers, architects and builders aiming to minimize the global warming impacts of their buildings should choose non-HFC (hydrofluorocarbon) foam insulation.
Two common foam insulation materials are produced with HFC blowing agents: Extruded polystyrene (XPS) and standard closed-cell spray polyurethane foam (ccSPF). Neopor® GPS is a non-HFC foam insulation and complies with the latest requirements published as part of the Significant New Alternatives Policy (SNAP, 2015) by the Environmental Protection Agency (EPA).
Payback (years) of insulation materials
The graphs show the payback period (in years) of different insulation materials based on their R-value. Payback refers to how many years of energy savings will be required to neutralize the global warming potential of the insulation. Neopor GPS, listed under EPS, with an R-value of 40 will be fully covered after 3 years. In comparison to XPS that will need almost 80 years for the same R-value.