4 in 1 Protection courtesy of the following control layers:
NEOPOR ThermaPlus™
NEOPOR ThermaPlus™ was created to help builder's deliver speed of construction by combining four control layers in a single product addressing Thermal, Bulk Water, Vapor, and Air control layers. It exclusively uses BASF Neopor® GPS (Graphite Polystyrene) rigid foam in conjunction with Barricade® Wrap Plus™ WRB. This energy-efficient, cost-effective insulation system gives your customers their comfortable home for years to come.
Used In: Residential Single-Family & Multi-Family
Markets: Above Grade Walls
Applications: Air Barrier, Damp Proofing/Water Proofing, Insulation
NEOPOR ThermaPlus™ is insulation PLUS so much more.
Bulk Water Resistance
Air Penetration Reduction
Vapor Resistance
Thermal Resistance R-5.0 & R-10
UV Resistance for Added Durability
15 PSI Compressive Strength to Meet Building Codes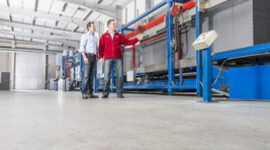 Request Your Sample Today!
Follow this link and request your NEOPOR ThermaPlus Sample today!