The United States Department of Energy's Building America Program seeks to develop solutions that improve energy efficiently, durability, quality, affordability, and comfort. In cooperation with Home Innovation Research Labs their attic retrofit project did just that. Here they developed innovative panels that are easy to install for existing homes where traditional attic insulation is no longer effective or feasible.
The Energy Saving Solution
The project demonstrated both a roof and attic retrofit solution that used nail-base insulated panels for existing homes. These nail-base panels consist of Neopor® Graphite polystyrene (GPS) insulation that is laminated to the face of a wood structural panel. Neopor® Graphite polystyrene (GPS) insulation has a relatively high permeance and insulation value that boosts thermal performance. The other side of the structural panel acts as the substrate for roofing to be easily installed. After installation the prefabricated panels proved to increase overall performance as an energy efficient and durable solution for many existing homes.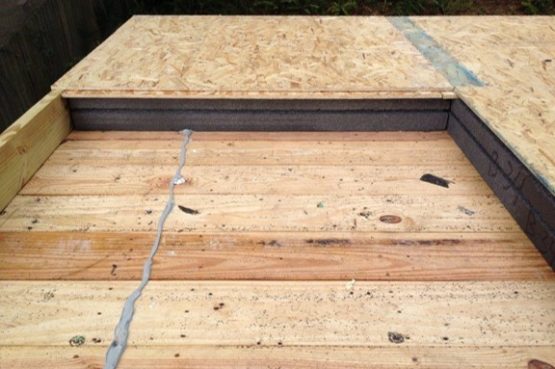 Measurements
The study demonstrated the benefits of the retrofit panels on two homes with differing climates. The first home was in cold climate Michigan, while the second was in the hot and humid climate of Georgia. The demonstration sites addressed moisture control, air barriers, insulation values, and structural considerations of the home. Sensors were installed to monitor conditions before and after the installation of retrofit panels. The sensors measured temperature, relative humidity, and wood moisture content during both summer and winter months to ensure the panels acted similarity in all seasons. Additionally, air barrier performance was tested using blower door testing before and after install.
In both locations homeowners expressed that the comfort level within their homes has improved and that they are pleased with their homes new outward appearance.
Results
The attic retrofit confirmed the organizations initial thoughts by providing an energy savings for the homeowner. In Michigan the energy savings were approximately 23% for heating and 13% for cooling, while in Georgia the heating and cooling savings were 11% across the board when compared to the before baseline measurements. An energy evaluation based on homeowner utility bills indicated that the savings could even be higher. Alongside this, overall home tightness improved considerably in both homes.
Similarly, moisture conditions at retrofit panels and roof decks remined within acceptable limits during both the summer and winter months following install.
Contrary to these improvements, relative humidity within the Georgia attic was higher during the summer following installation. Despite a higher relative humidity, attic dew point temperature was somewhat lower after install. To combat the rising humidity, an HVAC vent would be installed and temperatures would continue to be monitored.
In both locations homeowners expressed that the comfort level within their homes has improved and that they are pleased with their homes new outward appearance. Shingles were installed over ventilation mats and remained in tack (not wavy). Lastly, prior to installation in Michigan ice damming was a problem. However, after installation ice damming was eliminated due to the innovative retrofit panel features.
Looking for a deep-dive on this topic? View the full 74 page report here.